Beschrijving
Specifications
■Length:425mm
■Width:198mm
■Wheelbase:256mm
■Second reduction rate:1:2.6
■Overall weight:1500g
■High mount motor
■4 Gear rear transmission
■New designed, Sealed gearbox
■4 wheel independent double-wishbone suspension
■SLF aluminum big bore oil dumber
■Plastic main chassis
■Adjustable aluminum motor mount system
■RWD high angle steering system
■49mm bone rear universal shaft
■Narrow scrub steering block
■Wide/Narrow rear diffuser
■Include YG-302 High response Steering gyro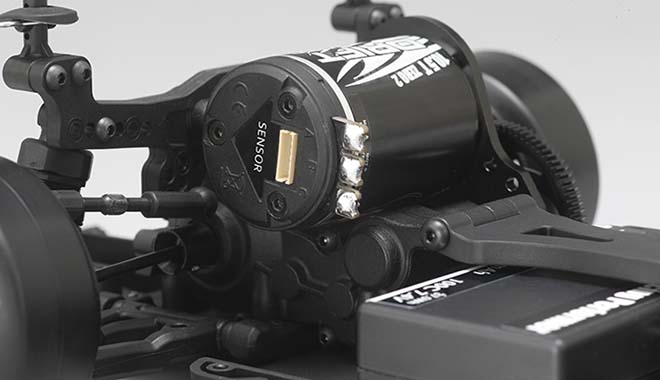 The highlight of YD-2S is the high mount motor layout as a result of new gearbox development.  Conventional high mount motor layout on YD-2 has been driven by third party conversions, however, those are too much height since they just re-layout the motor position by adding high priced carbon made parts with ridiculous appearance.
Too much higher role centers delivered the disadvantages of performance as well, such as slow acceleration at the corner exit, and it is not easy to drive at the competition track.  YD-2S enables to select 3 kinds of motor positions in order to suits the best role center to deliver the best rear traction in several kinds of slippery environments.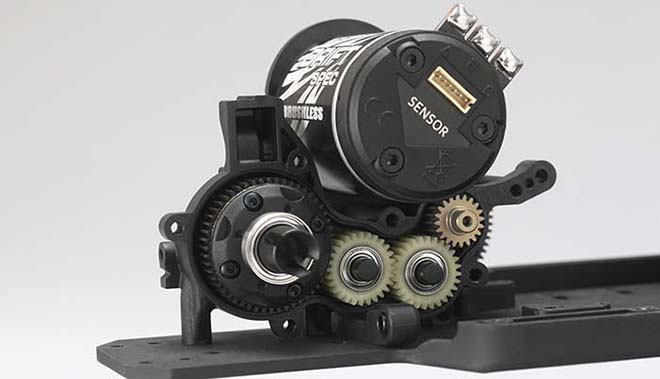 A fully new designed 4 transmission could squeeze into the bottom of the motor, and it is the type to increase the rear traction as rotational torque goes up, supreme to low friction surface track. The rear differential has 4 pinion gear.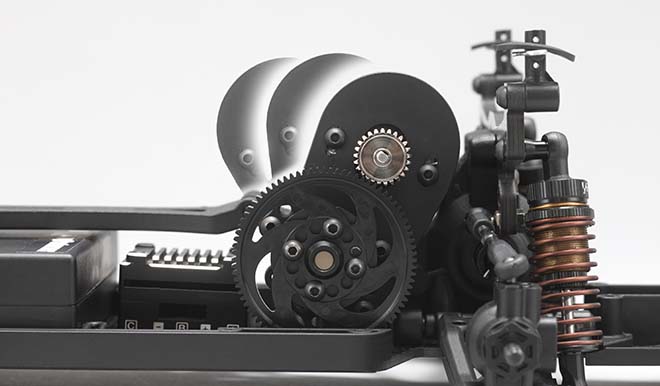 Since the motor layout can be changed by selecting from 3 rotate positons at the motor mount plate, the weight balance of the car will be also adjustable to find out the best setting for keeping supreme angle and speed in any kind of slippery surface condition.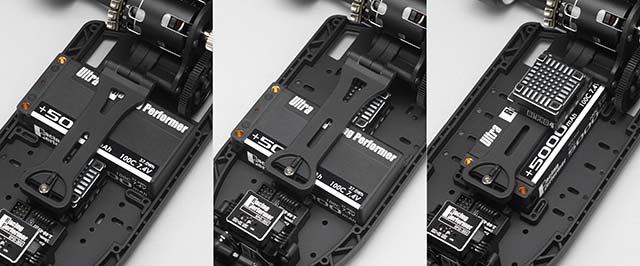 The battery is limited to Shorty LiPo battery, but the mounting layout will have 4 different positions by selecting the battery stopper location on the chassis.  The layout will be Vertical, Horizontal Front/Mid/Rear in order to complete the fine-tuning on weight balance and forward/backward traction.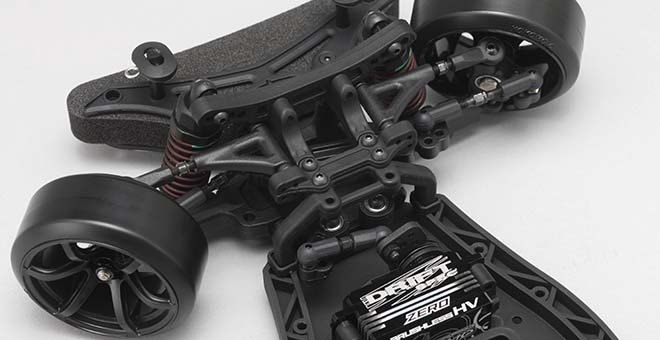 Steering around is the same as conventional YD-2 series.  The best Ackerman rate fills deliver the front-driven running. Aluminum option parts are the co-usable among the YD-2 series.
The pictures are the assembled samples on the prototype. It may changes at the production version without notice.

The kit does not include body, wheels, tires, motor, batteries, pinion gear, and other R/C electrics.